Enrollment forms should be picked up in the Bowlus Office.
CHILDREN'S SUMMER THEATRE WORKSHOP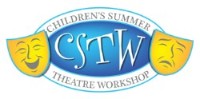 CSTW Workshops I & II will explore a combination of techniques basic to theatrical performance.  Students will play improvisational theater games, practice voice projection and expression, develop characters, memorize lines and perform in front of their peers.  Students will also take a tour of the  stage, experience the grid and learn about basic stage equipment.
CSTW: Improv Workshop is a new addition this year.  This workshop is open to students entering the 9th grade through students entering the 12th grade.  This will be a week long intensive improvisation workshop.  We will work on improvisation, vocal enhancement, pantomime, voice and diction, expression and body movement.
All workshops will end with a public performance, showcasing what the students have been working on.  CSTW is under the direction of Creative Director, John Higginbotham.  Groups are limited to 30 students. Pre-enrollment is required to reserve your spot!
LOCATION:  Iola Community Theatre Warehouse, 203 S. Jefferson Ave. (Drop-off and pick-up each weekday.)
WORKSHOP I:  Entering 3rd—5th grades ~ Weekdays July 9—July 20 ~ 8 a.m.—10 a.m.
WORKSHOP II:  Entering 6th—8th grades ~ Weekdays July 9—July20 ~ 10 a.m.—Noon
CSTW:  Improv:  Entering 9th—12th grades ~ Weekdays July 16—July 20 ~ 1 p.m.—3:30 p.m.
PERFORMANCE:  Saturday, July 21 at 9:00 a.m. in the Bowlus Auditorium (both age groups)
​​​​​​FOR MORE INFORMATION CONTACT: John Higginbotham at (620) 365-9684 or john.higginbotham@bowluscenter.org
---
MISSOULA CHILDREN'STHEATRE
This musical performance is an original musical adaptation of the classic tale featuring up to 60 local children entering 1st—12th grades.  An audition is required.       Students who are cast in a role or as an assistant stage manager participate for FREE.     Pre-enrollment is recommended but does not guarantee casting.
LOCATION:  Bowlus Auditorium—Enter through the south (alley) doors.
AUDITIONS:  Monday, July 9 from 12:30 p.m.—2:30 p.m. (Must attend entire audition.)
REHEARSALS:  Monday, July 9—Friday, July 13 (Scheduled between 12:30 p.m.—5 p.m.)
Note:  A rehearsal schedule will be provided immediately following auditions;
rehearsal days/times will vary based on the character role in which your child is cast.
PERFORMANCE: July 14 @ 3 p.m. Tickets are $3 for adult/$2 students/free under 5
FOR MORE INFORMATION CONTACT Jeff Jordan at (620) 875-9420 or jeff.jordan@bowluscenter.org