Arts Plaza Campaign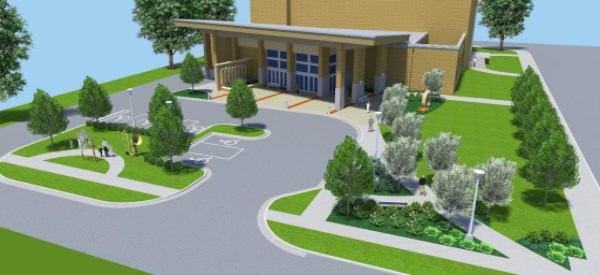 Architect's Rendering of the New Bowlus Fine Arts Plaza
The Bowlus Fine Arts Plaza . . .From a Dream to Reality
The Friends of the Bowlus, Inc. have accumulated $800,000 toward their $1.3 million project - an improved east entrance with accessible parking, a circle drive for easy drop-off and pick-up, an outdoor performance area and a full-sized elevator which provides access to the main auditorium, the art gallery, and two levels of classrooms and offices. The design also includes a new, safe and easy to use loading dock needed to move scenery and equipment for stage productions and concert events.
The Friends organization believes that Mr. Bowlus' dream of a fine arts center included the opportunity for everyone in the community to attend and enjoy cultural and education programming. They want to bring the Bowlus a bit closer to that dream by making the building more easily accessible to all.
You can play an important role in making this dream a reality. Study the design of the plaza and decide how you would like to make an impact. You can make a donation online using your credit/debit card or download a donation form to include with your check. Checks may be mailed to the Bowlus office at 205 E. Madison Ave., Iola, KS  66749. 
Help us STEP INTO THE FUTURE with the new Bowlus Fine Arts Plaza by making your contribution today!


---
We have raised $1,100,000.00 of our goal.