Welcome!
We strive to make our community a better place by making entertainment opportunities with the best leg room in Kansas!
Dear Bowlus Fine Arts Patrons,
Due to the state order to close all events with 10 or more in attendance for the next 8 weeks, the Bowlus has moved the following performances to new dates:
Albert Cummings, Saturday 21st Has been moved to Friday, September 18, 2020 at 7pm
Stunt Dog Experience, Sunday, April 5 Has been moved to Sunday, August 16, 2020 at 2pm.
Anne of Green Gables – The Ballet, May 7 Has been moved to Friday, October 2, 2020 at 7pm.
Current Ticket Holders can be use their tickets for the new performance date. There is no need for the Bowlus to reissue new tickets. If a ticket holder cannot locate their tickets, please email the Bowlus box office at tickets@bowluscenter.org to request their tickets to be resent or reprinted.
For patrons who purchased single tickets and are not able to attend the new date, the following options will be available by contacting our office directly starting Monday, March 23 (620-365-4765 9am – 4pm. Options are not available for subscription tickets):
• A credit voucher, for the total transaction value of the cancelled tickets, to be used for any events taking place for the upcoming 2020-2021 season. The new season will be announced in July. The voucher is redeemable for one single transaction and any balances are not eligible for further purchases or refunds.
• Donating the full value of their tickets to the Bowlus, to support our future and help see us through this difficult time.
• A full refund of their transaction. If the transaction was made by credit card within the last 90 days, the refund will go directly back onto the card that was used. If it was beyond 90 days, the refund will be issued by a Bowlus Check within 14 days of canceling the tickets. If they paid by check or cash, their refund will be issued by a Bowlus Check within 14 days of canceling their tickets.
We appreciate everyone's patronage, understanding, and consideration of rescheduled dates.
Our love and support go out to those who have been personally impacted in any way by this virus.
Be well. Keep hydrated. Wash your hands. Keep your loved ones close.
Daniel Kays, Executive Director
Chris Perondi's Stunt Dog Experience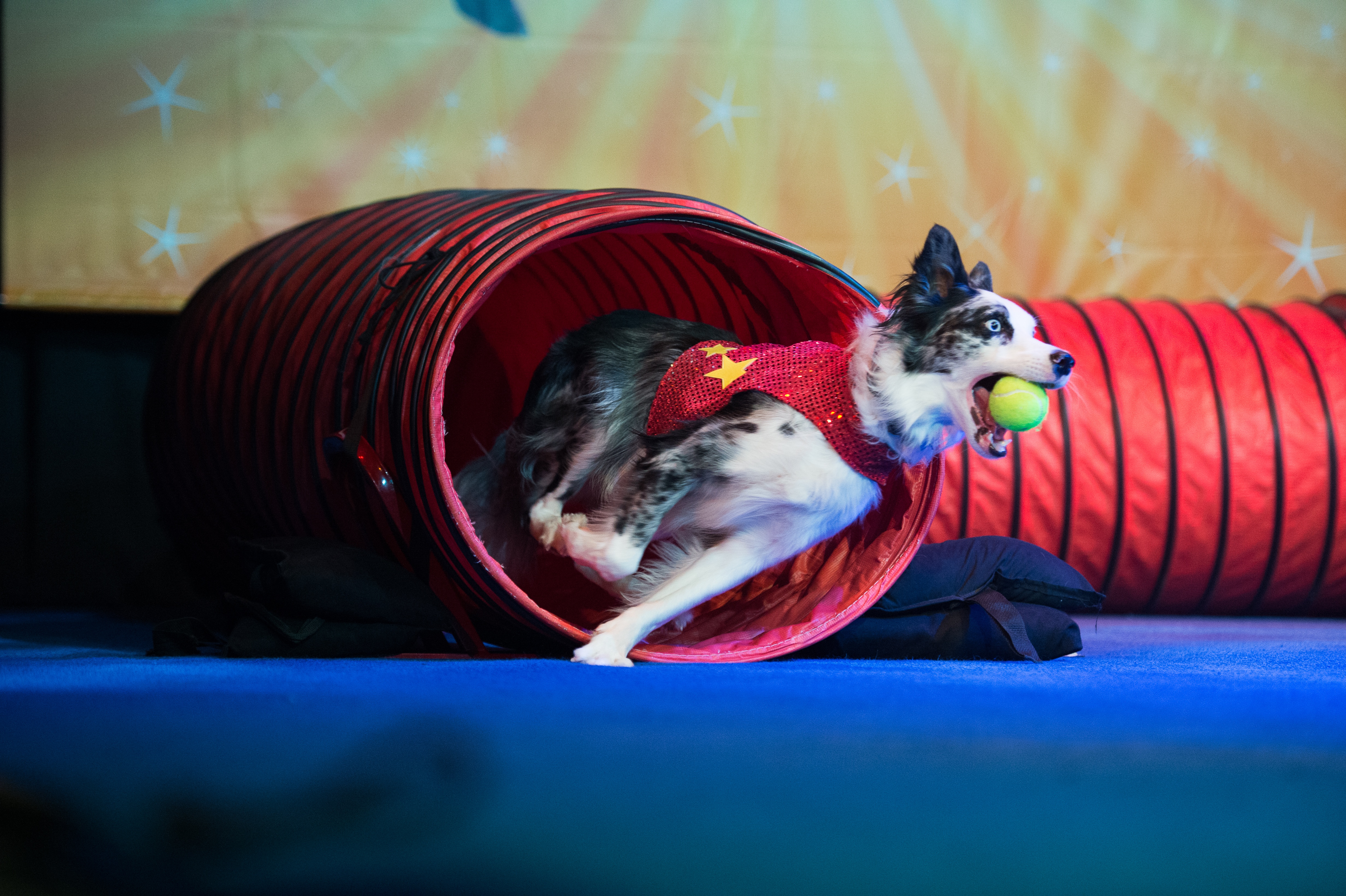 This cast of performers and dogs will delight audiences of all ages, with high energy excitement from beginning to end. During The Stunt Dog Experience you will witness some of the most incredible stunts and behaviors ever performed by dogs. The experience has amzing tricks, big air stunts, comedy antics, dancing dogs, athletic feats, and is the most entertaining show of its kind!
Every show includes interactive crowd participation. It's not just a show, it's an experience! Audience members will chant, "Dog Gone Fun" and be involved in the excitement of the production. The show features the "Golden Bone Showdown" which is a series of five separate challenges that will test each dogs intelligence, speed, accuracy and leaping ability.
Don't forget the athletic feats! From world class flying disc catching dogs, the "Stunt Dog Triathlon," weave pole/barrel racing, to the famous high-jumping phenomenon. You will witness the most athletic and talented dogs in the world.