Welcome!
We strive to make our community a better place by making entertainment opportunities with the best leg room in Kansas!
Dear Bowlus Fine Arts Patrons,
Due to the state order to close all events with 10 or more in attendance for the next 8 weeks, the Bowlus has moved the following performances to new dates:
Albert Cummings, Saturday 21st Has been moved to Friday, September 18, 2020 at 7pm
Stunt Dog Experience, Sunday, April 5 Has been moved to Sunday, August 16, 2020 at 2pm.
Anne of Green Gables – The Ballet, May 7 Has been moved to Friday, October 2, 2020 at 7pm.
Current Ticket Holders can be use their tickets for the new performance date. There is no need for the Bowlus to reissue new tickets. If a ticket holder cannot locate their tickets, please email the Bowlus box office at tickets@bowluscenter.org to request their tickets to be resent or reprinted.
For patrons who purchased single tickets and are not able to attend the new date, the following options will be available by contacting our office directly starting Monday, March 23 (620-365-4765 9am – 4pm. Options are not available for subscription tickets):
• A credit voucher, for the total transaction value of the cancelled tickets, to be used for any events taking place for the upcoming 2020-2021 season. The new season will be announced in July. The voucher is redeemable for one single transaction and any balances are not eligible for further purchases or refunds.
• Donating the full value of their tickets to the Bowlus, to support our future and help see us through this difficult time.
• A full refund of their transaction. If the transaction was made by credit card within the last 90 days, the refund will go directly back onto the card that was used. If it was beyond 90 days, the refund will be issued by a Bowlus Check within 14 days of canceling the tickets. If they paid by check or cash, their refund will be issued by a Bowlus Check within 14 days of canceling their tickets.
We appreciate everyone's patronage, understanding, and consideration of rescheduled dates.
Our love and support go out to those who have been personally impacted in any way by this virus.
Be well. Keep hydrated. Wash your hands. Keep your loved ones close.
Daniel Kays, Executive Director
Anne of Green Gables-The Ballet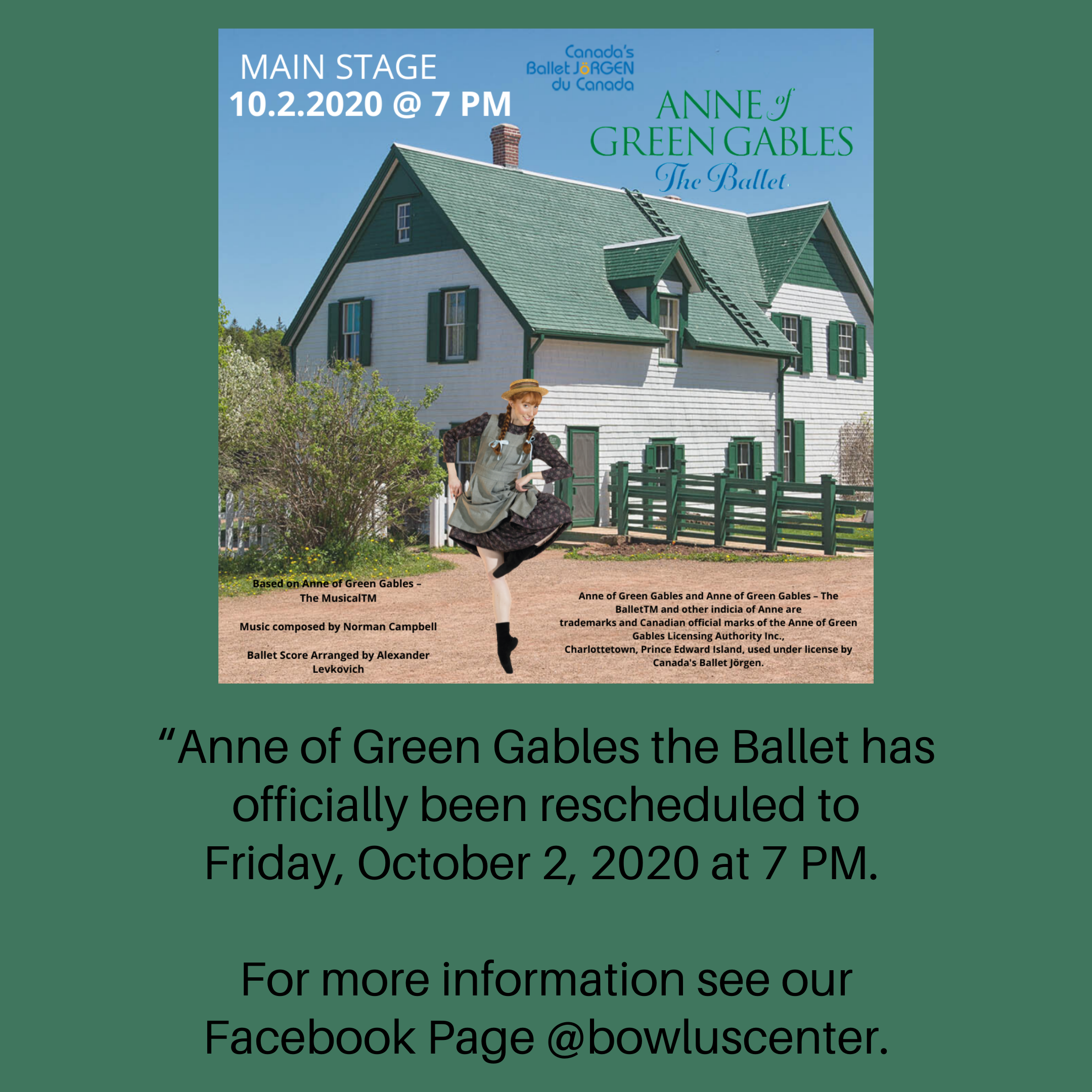 A Bowlus Special Event! Anne of Green Gables-The Ballet.
This creation is made possible through the assistance of the heirs of Lucy Maud Montgomery, and the company has secured the final stages of securing a partnership with the heirs of Norman Campbell to enable us to create a score based on the original musical composition from Anne of Green Gables – The Musical®.
Synopsis
Anne of Green Gables is a 1908 novel by Canadian author Lucy Maud Montgomery (published as L. M. Montgomery). Written for all ages, it has been considered a children's novel since the mid-twentieth century. It recounts the adventures of Anne Shirley, an 11-year-old orphan girl who is mistakenly sent to Matthew and Marilla Cuthbert, a middle-aged brother and sister who had intended to adopt a boy to help them on their farm in the fictional town of Avonlea on Prince Edward Island. The novel recounts how Anne makes her way with the Cuthberts, in school, and within the town.
Anne Shirley, a young orphan from the fictional community of Bolingbroke, Nova Scotia (based upon the real community of New London, Prince Edward Island), is sent to live with Marilla and Matthew Cuthbert, siblings in their fifties and sixties, after a childhood spent in strangers' homes and orphanages. Marilla and Matthew had originally decided to adopt a boy from the orphanage to help Matthew run their farm at Green Gables, which is set in the fictional town of Avonlea. Through a misunderstanding, the orphanage sends Anne instead.
Anne is highly imaginative, eager to please and, at times, quite a dramatic individual. However, she is defensive about her appearance, despising her red hair and pale, thin frame. She is often quite talkative, especially when it comes to describing her fantasies and dreams. At first, stern and sharp Marilla says Anne must return to the orphanage, but after much observation and considering, along with Matthew's strong liking to Anne, she decides to let her stay.
As a child of imagination, Anne takes much joy in life and adapts quickly, thriving in the close-knit farming village. Her imagination and talkativeness soon brighten up Green Gables.