New East Addition & Fine Arts Plaza
Construction Progress

Click here to GO TO OUR GOOGLE PHOTO ALBUM to check out photos of our progress!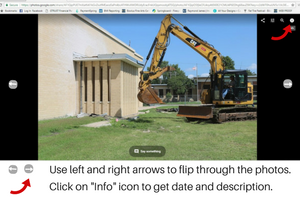 This link will take you to an album in Google Photos.  Select a photo then use the LEFT and RIGHT arrows which appear on either side to flip through the photos.  Click on the "Info" icon in the upper-right corner to get the photo's date stamp and a description (if available).
Check back on our progress!  New photos will be added often!