BUSES AT THE BOWLUS!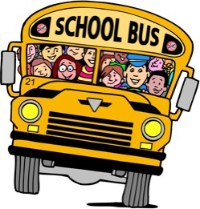 Each year the Bowlus Fine Arts Center provides school aged children in Allen County the opportunity to see a live performance on the Bowlus stage – free of charge.  Students enrolled in USD #256 (Moran), USD #257 (Iola) and USD #258 (Humboldt) are invited through their school principals.  Students enrolled in neighboring rural school districts are invited to attend as seating is available.  
Home school families should call the Bowlus Office at (620) 365-4765 or e-mail Mandy at mandy.moyer@bowluscenter.org for reservations beginning 30 days prior to the event.
The events listed below are scheduled for the 2018-19 school year.
---
Upcoming Events:
Tuesday, February 19 @ 9:30 AM & 1:00 PM
YOUR ALIEN - ARTSPOWER
Pre-K - 2nd Grade Students
One day, you'll be looking out your window when something wonderful comes your way… and you will want to keep him.
ArtsPower's newest musical touches down with a stranded alien who strikes up a fabulous friendship with a boy who finds him. They go to school and have loads of fun together. As evening approaches, the alien grows homesick. Will the boy be able to figure out how to help his new friend? This funny and uplifting new musical shows how the power of true friendship can last a lifetime.
Based on the book, "Your Alien." Written by Tammi Sauer and illustrated by Goro Fujita. Copyright © 2015. Published by Sterling Children's Books, New York, NY. Presented under a special agreement. All rights reserved.
Performance: 55 minutes
---