Missoula Children's Theatre Summer Workshop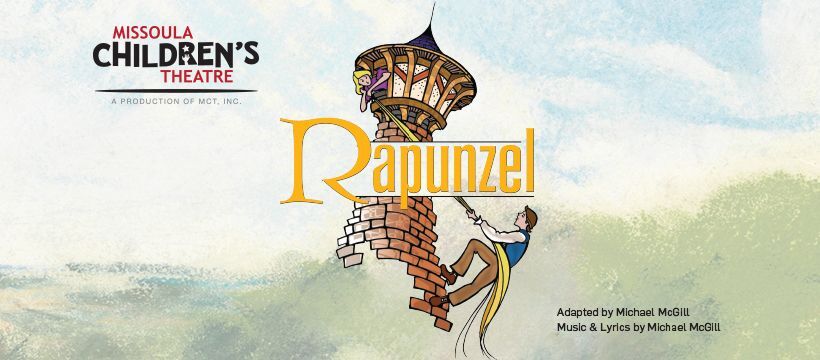 "RAPUNZEL"
Would it surprise you to know that the story of Rapunzel happened in France? Well, it didn't really, but our story takes you on a frivolous frolic through the French countryside.  The Ogres garden in the Mushroom patch while the Corn and Potato spies report back to Madame Gothel. Frenchy and his intense friends, the Wood Elves, do their best to help Rapunzel escape the grasp of Madame Gothel. The lost Prince, Rapunzel's parents, and her friends the Unicorns try to help. Just when you think it's safe to cross the bridge, a Troll and Three Billy Goats Gruff get in the way. It doesn't help that the Three Bears (or is it four) confuse Rapunzel with Goldilocks and chase her through the forest. Add to that the Gremlins trying to play tricks on everyone, and you have chaos! Well, it's not that bad because the Pixies foil the Gremlins' plans most of the time. In short, Rapunzel and all the rest of the characters tell a silly tale of personal triumph and friendship.
It will feature up to 60 local children entering 1st-graduating 12th.  An audition is required.  Students who are cast in a role or as an the assistant stage manager participate for FREE. Pre-enrollment is recommended but does not guarantee casting. You can also sign up the first day during auditions.
LOCATION:  Bowlus Auditorium- Enter through the south (alley) doors.
AUDITIONS: Monday, July 10th from 12:30-2:30 PM. (Must attend entire audition.)
(Must attend entire audition.)  Students who need to register arrive 10 mins early.  Pre-registered participants arrive at 12:30 PM.
REHEARSALS:  Monday, July 10th - Friday, July14th (Scheduled between 12:30-5 PM)
PERFORMANCE: Friday, July 14th @ 6 PM
TICKETS: General Admission Seating (FREE WILL DONATION)
Note: A rehearsal schedule will be provided immediately following auditions; rehearsal days/times will vary based on the character role in which the child is cast.
This is a free program for the public provided by the Stephenson Trust.
---
Online REGISTRATION Open Now!
PERFORMANCE:  Friday, July 14th @ 6 PM!
Questions? Please contact (620) 365-4765 or email: summer.programs@bowluscenter.org.
Program Funded by the Stephenson Trust.
Paper Registration Form available at the Bowlus.