CHILDREN'S SUMMER THEATRE WORKSHOP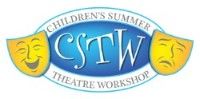 CSTW Workshops I & II will explore a combination of techniques basic to theatrical performance.  Students will play improvisational theater games, practice voice projection and expression, develop characters, memorize lines and perform in front of their peers.  Students will also take a tour of the  stage, experience the grid and learn about basic stage equipment.
CSTW Improv Workshop is returning after a successful first year.  This workshop is open to students entering the 9th grade through students entering the 12th grade.  This will be a week long intensive improvisation workshop.  We will work on improvisation, vocal enhancement, pantomime, voice and diction, expression and body movement.
All workshops will end with a public performance, showcasing what the students have been working on.  CSTW is under the direction of Creative Director, John Higginbotham.              
Thank you for allowing your children to attend and learn with us how to do our workshops with the COVID-19 rules in place. We really appreciate it!!
The CSTW STAFF
---