CHILDREN'S SUMMER THEATRE WORKSHOP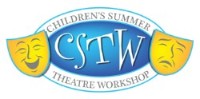 CSTW Workshops I & II will explore a combination of techniques basic to theatrical performance.  Students will play improvisational theater games, practice voice projection and expression, develop characters, memorize lines and perform in front of their peers.  Students will also take a tour of the  stage, experience the grid and learn about basic stage equipment.
CSTW Improv Workshop is returning after a successful first year.  This workshop is open to students entering the 9th grade through students entering the 12th grade.  This will be a week long intensive improvisation workshop.  We will work on improvisation, vocal enhancement, pantomime, voice and diction, expression and body movement.
All workshops will end with a public performance, showcasing what the students have been working on.  CSTW is under the direction of Creative Director, John Higginbotham.              
Groups are limited to 20 students. Priority will be given to returning students. ONLINE Pre-enrollment is required to reserve your spot! 
LOCATION:  Bowlus Fine Arts Center, 205 E. Madison Ave. (Drop-off and pick-up each weekday at the south alley doors.)
WORKSHOP I:  Entering 3rd - 5th grades ~ Weekdays,  July 6-July 17, 8 AM-10 AM
WORKSHOP II:  Entering 6th - 8th grades ~ Weekdays,  July 6-July 17, 10 AM-12 PM
CSTW Improv Workshop:  Entering 9th - 12th grades, July 13-July 17th, 1 PM-3:30 PM (This is a WEEK long intensive improvisation course).
PERFORMANCE:  TBA
PRE-ENROLLMENT IS REQUIRED TO RESERVE YOUR SPOT!  WALK-INS WILL NOT BE PERMITTED!
***A Safety Guideline Form will be provided at a later date.***
***This form will have to be signed in order for the child to participate in our summer workshop.*** 
REGISTRATION NOW OPEN!!
Questions? Contact the Bowlus Fine Arts Center at (620) 365-4765 or email: summer.programs@bowluscenter.org.
Funding Provided by The Daniels Estate
Click here for CSTW Workshop I online registration.
Click here for CSTW Workshop II online registration.
Click here for CSTW IMPROV online registration.
---