CHILDREN'S SUMMER THEATRE WORKSHOP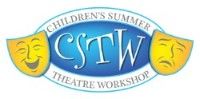 Hey Everyone! Just wanted to give an update on Children's Summer Theater Workshop (CSTW).
Dates are official for CSTW!!!
It will be hosted at the Bowlus Fine Arts Center.
Sessions I & II:  July 19th - July 30th with a performance on July 31st.
Session I:  8 AM - 10 AM (Going into 3rd grade through going into 5th grade.)
Session II:  10 AM - Noon (Going into 6th grade through going into 8th grade.)
CSTW Improv:  July 26th - July 30th, 1:30 PM - 3:30 PM (Going into 9th grade through graduating high school seniors.) 
Performance:  July 31st @ 9 AM for all sessions.
Cost: $40 - Sessions I & II
Cost: $25 - Improv Session
Paper enrollment forms are available at the Bowlus NOW!! 
ONLINE  REGISTRATION IS OPEN!!     Click on event in the events calendar to register
If you have any questions please email us at: summer.programs@bowluscenter.org
CSTW Workshops I & II will explore a combination of techniques basic to theatrical performance. 
Students will play improvisational theater games, practice voice projection and expression, develop characters, memorize lines and perform in front of their peers.  Students will also take a tour of the  stage, experience the grid and learn about basic stage equipment.
CSTW Improv Workshop: This workshop is open to students entering the 9th grade through students entering the 12th grade. 
This will be a week long intensive improvisation workshop.  We will work on improvisation, vocal enhancement, pantomime, voice and diction, expression and body movement.
All workshops will end with a public performance, showcasing the students. 
CSTW is under the direction of Creative Director, John Higginbotham.      
Groups are limited to 20 students. Priority will be given to returning students. Pre-enrollment is required to reserve your spot!       
---