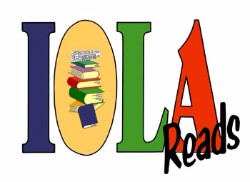 IOLA READS is a cooperative project between the Iola Public Library, USD #257 schools and the Bowlus.  Major funding is provided by the Sleeper Family Trust and the Helen Gates Whitehead Trust through the Bowlus Fine Arts Center.
WINTER 2018 BOOK SELECTION
Books Available February 12
The Wright Brothers
by Master Historian David McCullough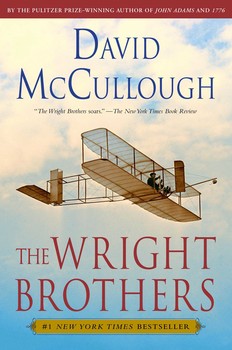 The Winter 2018 project features The Wright Brothers, a biography by eminent historian and two-time Pulitzer Prize winner David McCullough.
On a winter day in 1903, in the Outer Banks of North Carolina, two brothers—bicycle mechanics from Dayton, Ohio—changed history. But it would take the world some time to believe that the age of flight had begun, with the first powered machine carrying a pilot.
Orville and Wilbur Wright were men of exceptional courage and determination, and of far-ranging intellectual interests and ceaseless curiosity. When they worked together, no problem seemed to be insurmountable. Wilbur was unquestionably a genius. Orville had such mechanical ingenuity as few had ever seen. That they had no more than a public high school education and little money never stopped them in their mission to take to the air. Nothing did, not even the self-evident reality that every time they took off, they risked being killed.
McCullough also profiles their sister, Katharine, without whom things might well have gone differently for them.
Join us on March 13 for an Aeronautics Fair at Riverside Park, from 1:00-7:00 p.m.  (In planning your visit, you may want to be aware that high school students may predominate from 1:00-3:00 p.m., and SafeBase students from 4:10 to 5:20 p.m.)   Exploration Place of Wichita provides 12 hands-on aviation activities, including:
Assemble an Aircraft

Inflight Energy

Know Your Nose Gear

Vertical Take-Off and Landing

Wing Work

Plane Marshalling
Other activities and exhibits include:
Paper Airplanes

Air Force veterans David Regehr and Walt Regehr tell about their experiences, the planes they worked with, and their flight suits

Powered Parachutes

"Flying Over Iola", a film made in 1929

Wright Flyer Replicas

And more!
Visit the Iola Public Library for more information on the programs affiliated with Iola Reads.
---
Two book selections are offered each year.  For more information, visit the Iola Public Library website at http://iola.mykansaslibrary.org/.
Iola Reads book selections may be picked up for a small donation at the Iola Public Library, at any USD #257 school library or at one of the many supporting businesses around town.