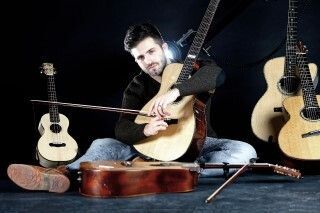 Bowlus Recital Series
With his music videos having Internet views exceeding 100 million and bookings in every corner of the globe, Luca Stricagnoli is considered one of the most interesting acoustic guitarists in the world. Using up to five guitars in the same piece, modified capos, and self-conceived stratagems, Luca continually leaves his audiences in awe and wondering what's next for the up-and- coming guitarist. In addition to his musical abilities, Luca brings an enthusiastic energy to the stage that makes him a true entertainer.
The show consists of a succession of incredible guitar performances, each different than the others. One guitar, two guitars at the same time, a guitar with three necks, guitars played with feet, with a kitchen knife or laying horizontally: people won't believe their eyes and ears and will instinctively want to start filming with their cellphones. From rock to pop, from soundtracks to hip hop, from arrangements to originals. Surprising and full of twists, never repetitive or boring, the show will surely impress and be remembered. Besides from the astonishing guitar playing, the concert is filled with jokes and anecdotes that explain through fun and humour the story behind what's happening. People won't just see crazy things, they will be explained in an interactive way what's going on and the reason behind every gimmick.