---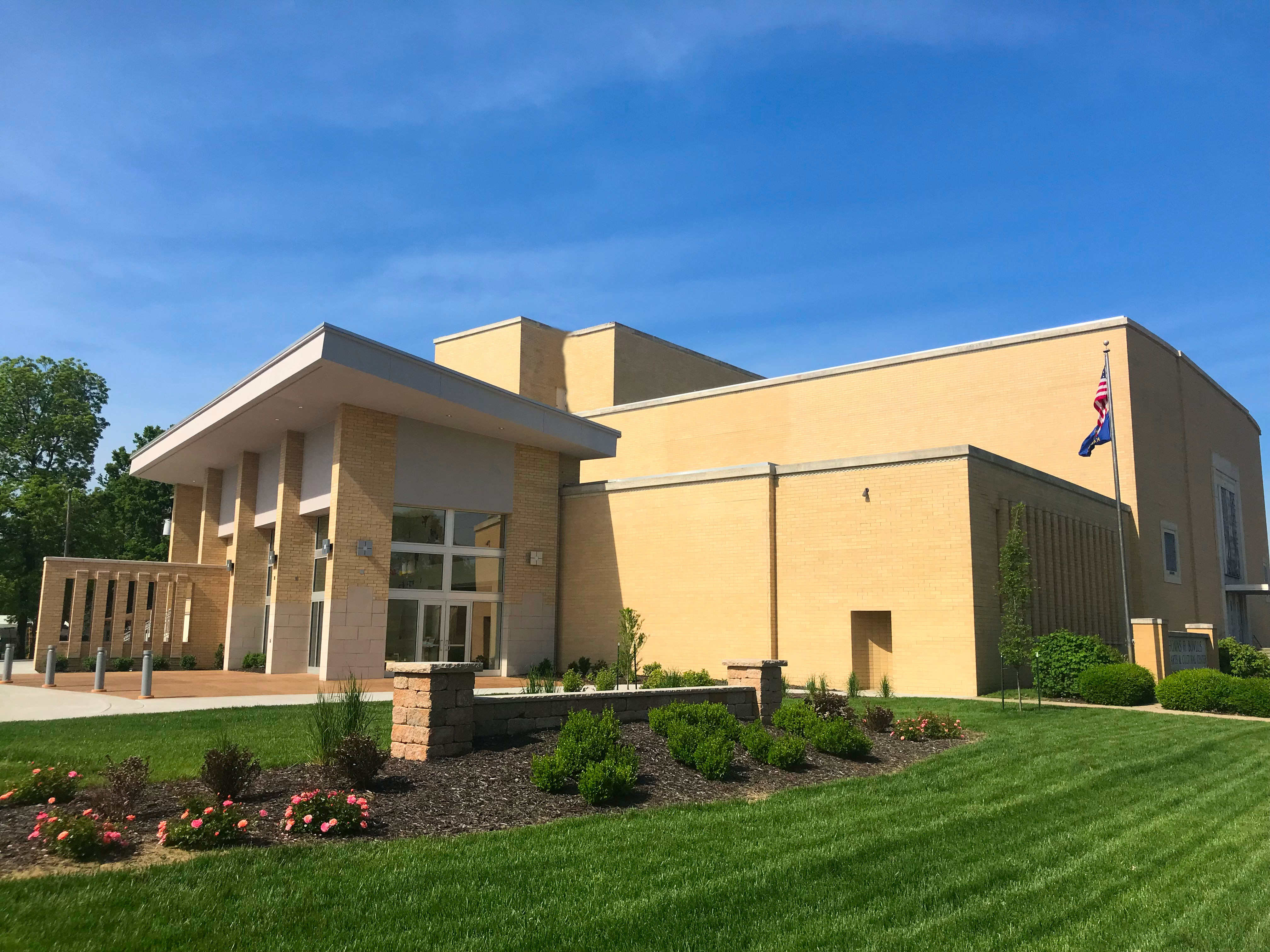 The Bowlus East Addition & Fine Arts Plaza
This $1.2 million project was the first major addition to the Thomas H. Bowlus Fine Arts & Cultural Center since construction of the building was completed in 1964.
The Friends organization accumulated the funds needed to complete the building addition which includes an improved east entrance with accessible parking, a circle drive for easy drop-off and pick-up, an outdoor performance area and a full-sized elevator which provides access to the main auditorium, the art gallery, and two levels of classrooms and offices. The design also includes a new, safe and easy to use loading dock needed to move scenery and equipment for stage productions and concert events.
The Friends organization believes that Mr. Bowlus' dream of a fine arts center included the opportunity for everyone in the community to attend and enjoy cultural and education programming. They want to bring the Bowlus a bit closer to that dream by making the building more easily accessible to all.
The Friends are still seeking donations in order to purchase outdoor benches, trees/plants, sculptures, musical garden instruments and other landscaping elements to beautify the Fine Arts Plaza.
You can play an important role in making this dream a reality. You can make a donation online using your credit/debit card or download a donation form to include with your check. Checks may be mailed to the Bowlus office at 205 E. Madison Ave., Iola, KS  66749. 
Help us STEP INTO THE FUTURE with the new Bowlus Fine Arts Plaza by making your contribution today!


---
Join this amazing group of Bowlus Supporters!  The following individuals, families and businesses have made additional contributions which are being used toward the completion Fine Arts Plaza project. (Last updated 2/15/2018)
Diana S. Adams
Allen County Chiropractic, LLC
Spencer & Helen Ambler
Anonymous - Other Gifts
In memory of Denise C. Apt
Jim & Mary Ann Arnott
Diana & Bill Asher
Kendall & Shirley Ashford
Shirley Ashford
In memory of Kendall Ashford
Ash Grove Cement Company
Dr. John & Pat Atkin
Judy D. Baker
Jean Barber
Don & Gerry Bain
Don & Donna Bauer
Jim & Shelby Bauer
Diane Bedenbender
Paul & Peg Beech
Rick & Rita Berntsen
Patti & Mark Boyd
Mary Lou Brown
Broyles, Inc.
David & Terry Broyles
Dale K. & Carol J. Buck
Brenda G. Bumgardner
Bob & Maude Burns
Don & Jane Burns
In memory of Evelyn Blake Calhoon
Roger Carswell
Iola Chapter L, P.E.O.
Bob & Jacki Chase
Carol Chrisenberry
Cathy Cline
Clopton Family Trust
Bruce & Judy Cochran
Travis & Jessamyn Coffield
Dr. Ryan Coffield, D.D.S.
Community National Bank & Trust
In memory of Daniel E. Creitz
Maynard & Jeanice Cress
Barbara Diehl
Jeff & Tammy Dieker
Maxine & Stanley Dreher
Andy & Yvonne Dunlap
Norb Eisenbart
Colleen Ellis
Tom Ellis
Kimberly Olinger Fitch
Sid & Sarah Fleming
Dave & Lisa Fontaine
Vickie Fontaine
Lillian M. Franklin
Betty Friskel
Elaine M. Fulton
Helen E. Gilpin Trust
Jim & Karen Gilpin
Keith Goering & Mary Ann Dvorachek
Steven & Deb Greenwall
Kenneth & Gladys Groves
Stephen & Patty Haen
In memory of Carl Hafer
Mary Anna Haney
Larry & Pamela Hart
Bob & Ginny Hawk
Joe & Flo Haynes
David & Mary Kay Heard
In memory of Eletheamae Heigele
Bret & Angelea Heim
Patrick & Mickey Hicks
Don Hillbrant
In memory of Don Hillbrant
Donna Houser
In memory of Raymond Houser
James & Sari Hunt
Sarah (Sally) Huskey
Gregg & Roxanne Hutton
Elizabeth R. Immel
In memory of Elizabeth R. Immel
James M. & Carol H. Immel
Iola High School Alumni Reunion
Wayne & Norma Jackson
Dr. Chris & Keri Jarvis
In memory of Alberta Jeffery
Dan & Linda Johnson
Jeff Jordan & Rhi Hess
Mary Joseph
Dr. Richard & Jan Knewtson
Kretzmeier, McCammon & St. Clair
Lonnie & Stephanie Larson
Tony & Barbara Leavitt
David & Tracy Lee
Dr. & Mrs. Vernon Lee
Doug & Linda Leonard
Steven, Camille, Cal & Mac Leonard
George & Charlene Levans
Charyl Link
Frank Link
Ann Loewe
Angelo Lynn
Emerson Killough Lynn
Michael Lynn
Susan Lynn & Dr. Brian Wolfe
Larry Manes & Nelda Cuppy
Mary L. Martin
In memory of Mary L. Martin
John & Georgia Masterson
Joann Maxwell
Duane & Judy McGraw
Ken & Kit McGuffin
Dorothy McGhee
T.L. & Mary McNett
Mary McNett
John & Merryl McRae
Ken & Connie McWhirter
Dan & Lisa Mildfelt
Gerry & Linda Milholland
Ed & Betty Miller
Marilyn Miller
Jack & Carol Mitchell
The Monarch Cement Company
Donna Lower-Nord
In memory of Imogene Saar Olinger
Gary & Janice Parker
Kevin & Glenda Pargman
Dr. Max Patterson & Mary Ann Magnuson
Vic & Maxine Perkins
Maxine Perkins
In memory of Victor Perkins
Chuck & Emy Platt
Brian & Traci Plumlee
Steve & Rita Porzio
Dr. & Mrs. Ellis Potter
Susan Raines
Ravin Printing, LLC
Walt & Mary Ann Regehr
David & Deborah Regehr
Lisse Regehr
Dennis & Beth Ringwald
Gale & Mary Ann Ritter
Carl & Sandy Robb
Dave & Debra Roe
Dee & Paula Sell
Robert & Josie Shaughnessy
Ken & Ann Shetlar
Bill & Roberta Shirley
Linda L. Sigg
Dr. Glen & Dee Singer
David L. Skidmore
Jerry & Betty Skidmore
Carl Slaugh
Marsha Smith
Barbara Anne & Dr. J. Steve Smith, DVM
B. Ellen Smith
Gerald E. & Connie Snider
In memory of Max Snodgrass
In memory of Arch Specht Family
Amaryllis Specht
Ted & Norma Stahl
Tom, Julie & Jordan Strickler
St. Clair-Hays, Inc.
The Sunderland Foundation
Supernova Dance Authority
In memory of Gladys Sutherland
Richard & Paula Sutherland
Dr. Dan & Doris Sweeney
Ben & Jen Taylor
Van & Ellen Thompson
Toronto Lumber Company
In memory of Susan D. Traw
Max & Beth Ann Turner
Paul & Saundra Upshaw
Curtis & Amy Utley 
Larry & Sharon Utley
Dr. Earl Walter
Bill & Cara Walden
Travis & LaDonna Ward
Alan D. Weber
Leon & Mary Weber
Weber Seed Service
Judith A. Welch
Jerry & Sharon Whitworth
Mark & Lisa Whitney
Ed, Sandy & Emilia Wilkerson
Don & Kathy Wilmoth
Dick & Karen Works
Joe & Jane Works
Walter & Karin Wulf
Albert & Virginia Ysusi
Paul L. Zirjacks
Note:  This list includes gifts designated specifically to the Fine Arts Plaza project AND undesignated gifts to Friends of the Bowlus, Inc. received since July 2014 (beginning of Fiscal Year 2015) when the project's fundraising campaign kicked off.  Names are listed as recorded at the time the gift was received.