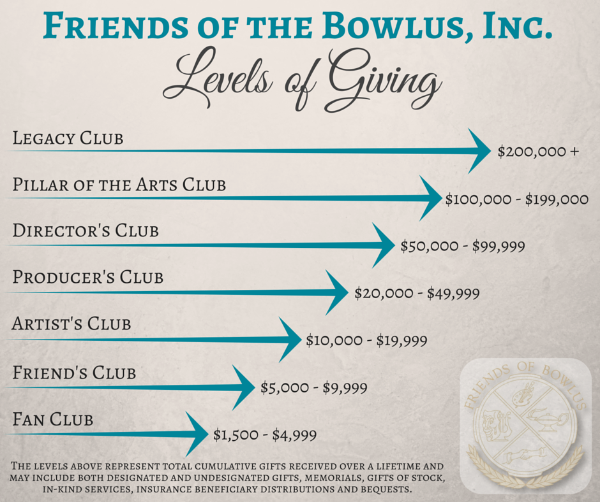 We keep track of your donations and over the years they add up!
The listing below represents cumulative, lifetime donations received by the Friends of the Bowlus, Inc. since the organization's founding in 1991.  Donations include both designated and undesignated gifts, memorial gifts, gifts of stock, and in-kind services.  Donations also include gifts received upon death including bequests and insurance beneficiary distributions.
Names separated by a semicolon represent a change in household during the years of giving.
---
Legacy Club - $200,000 and Above
Wayne & Opal Archer; Wayne Archer Estate
Emerson, Jr. & Mickey Lynn; Emerson Lynn, Jr. Estate
      The Editors and Their Wives of The Iola Register
      Charles F. & May Scott, Editor, 1882-1938
      Angelo & Helen Scott, Editor, 1938-1965
      Emerson & Ruth Lynn, City Editor, 1940-1963
      Emerson & Mickey Lynn, Editor 1965-2000
      In Appreciation for the Contributions made by Mickey June Lynn
Pillar of the Arts Club - $100,000 – $199,999
Howard K. & Helen E. Gilpin; Helen E. Gilpin Estate
Director's Club - $50,000 - $99,999
(None)
Producer's Club - $20,000 - $49,999
Anonymous Gift
Jim & Mary Ann Arnott
Mary Ellen Stadler
Leland Ulrich
Susan Lynn & Dr. Brian Wolfe
Joe & Janie Works
Artist's Club - $10,000 - $19,999
Judge William H. Enfield
Howard M. "Tony" & Elizabeth R. Immel; Elizabeth "Sue" Immel
Angelo Lynn
Emerson Killough Lynn
Michael Lynn
Modern Woodmen of America, Agent Liz Armer
Monarch Cement Company
Vic & Maxine Perkins
Russell Stover Candies
Friend's Club - $5000 - $9,999
Mack V. & Sara C. Colt, Colt Investments, Inc.
Gannett Foundation, Inc.
James S. & Karen L. Gilpin
Helen Grother
Kretzmeier, McCammon, & St. Clair
Don & Mary L. Martin; Mary L. Martin
Ed & Suzanne Marquis
Fan Club - $1,500 – $4,999
Craig, Georgia & Kristen Abbott
Alltel
Diana & Bill Asher
Kendall & Shirley Ashford
Jim & Shelby Bauer
Dr. Clay & Stephanie Beshore
Burton Bowlus
Mary E. Boyd
David & Terry Broyles
Richard & Lois Burris
Robert T. Burtch
Sergio & Charmane Campanini Family
Cedarbrook Golf Course
Bob & Jacki Chase
Copy Products, Inc.
Stanley & Maxine Dreher
Emprise Bank
The Employees of Emprise Bank of Iola
Marie J. & A. Ray Enfield
Farm City Days, Inc.
Allen & Sandra McDonald Finch
Lillian M. Franklin
Gates Corporation
Herff Jones, Inc.
Wayne & Oleata Hiser
Ruth Clopton Hodges
Hoffmeier Electric, LLC
Dorothy P. Hoye
Robert & Sarah J. Huskey; Sarah "Sally" Huskey
Iola Bank & Trust Company
Iola Community Theatre
Iola High School Class of 1948
Iola Music Club
The Iola Register, Inc.
Jake Jacobs
Dan & Linda Johnson
Mr. & Mrs. Robert L. Lane
Lonnie & Stephanie Larson
Harry & Joyce Lee
Herschel & Beth I. Lundblade
Fern Marsh
John & Georgia Masterson
Jacquelyn C. McFadden
John, Sr. & Connie McRae
Moran Presbyterian Church
Ralph & Viola A. Moser
Grace F. Myers
Gary & Janice Parker
Mary Ann Magnuson; Dr. Max Patterson & Mary Ann Magnuson
PEO Chapter L
Chuck & Emy Platt, Ace Hardware of Iola
Dr. Ellis & Jane Potter
Susan Raines
Walt & Mary Ann Regehr
Dave & Debra Roe
Rotary Club of Iola
Kathryn Bugbee Scott
Dee & Paula Sell
Bill & Roberta Shirley
Dr. Glen & Dee Singer
Jerry & Betty Skidmore
Barbara Sleeper
Steven P. Smith
Snodgrass, Dunlap & Company
South Street Dance Company Families
Southwestern Bell Telephone
Terry & Cheryl Sparks
Pete & Jiggs Stith
Robert & Donna Talkington
Van & Ellen Thompson
Marjorie Lee Weast
Maxine Woolery
Brian & Barbara Wolfe
Gerald & Mary Lea Wright
Walter H. Wulf & May L. Wulf
Paul L. & Judy J. Zirjacks; Paul L. Zirjacks
---
NOTE:  The Friends bookkeepers have worked hard to keep track of the numerous donations received over the past 25+ years . . .and it's possible to have missed something as the record keeping systems have changed along the way.  If you have any questions about this donor listing and why your family's name appears (or does not appear) in a particular category, please don't hesitate to notify the Bowlus office.  We are happy to share the information that we do have on file -- and want to record our donor history as accurately as possible.