Welcome!
We strive to make our community a better place by making entertainment opportunities with the best leg room in Kansas!
Fry Street Quartet: American Women Composers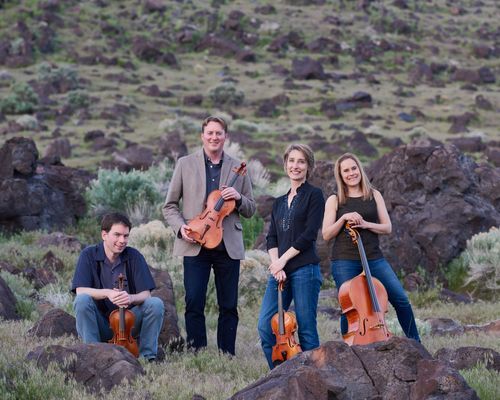 This remarkable quartet - hailed as "a triumph of ensemble playing" by the New York Times - is a multi-faceted ensemble taking chamber music in new directions. Touring music of the masters as well as exciting original works from visionary composers of our time, the Fry Street Quartet has perfected a "blend of technical precision and scorching spontaneity" (Strad). The quartet has reached audiences from Carnegie Hall to London, and Sarajevo to Jerusalem, exploring the medium of the string quartet and its
life-affirming potential with "profound understanding...depth of expression, and stunning technical astuteness" (Deseret Morning News).
The FSQ has commissioned and toured new works by a wide range of composers. Pandemonium by composer Clarice Assad received its Fry Street premiere with the San Jose Chamber Orchestra; Michael Ellison's Fiddlin' was co-commissioned by the Arizona Friends of Chamber Music Series and the Salt Lake City based NOVA series; Laura Kaminsky's Rising Tide was commissioned especially for the quartet's global sustainability initiative, The Crossroads Project, which tours with projections of paintings by artist Rebecca Allan, text by physicist Dr. Robert Davies and images by photographer Garth Lenz. The quartet also workshopped and premiered Laura Kaminsky's chamber opera, As One, with soprano Sasha Cooke and baritone Kelly Markgraff at the Brooklyn Academy of Music, as well as a new work by Libby Larsen entitled Emergence, which anchors the Crossroads Project's Second Chapter, Crossroads: Emergence for string quartet, film, and actor. The Crossroads Project album has recently been released on Navona Records.
The FSQ holds the Russell Family Foundation Endowed String Quartet Residency at the Caine College of the Arts at Utah State University in Logan, Utah.