Welcome!
We strive to make our community a better place by making entertainment opportunities with the best leg room in Kansas!
Dear Bowlus Patrons and Friends,
As we continue navigating these uncharted waters and continue to seek stability in our COVID 19 experience, the Bowlus is looking to welcome you back through our doors, with cautious optimism. All the while following the guidance of our local government and health officials. Please visit our new COVID 19 page which has the most up to date information on facility procedures and protocols for your future visit to the Bowlus.
In the meantime, here are some updates on scheduled Bowlus Performances. 
Stunt Dog Experience: August 16, 2020
With limited capacity for seating, due to social distancing, this show has been frozen for new sales. Those with tickets to the performance have been sent an email on the process of dividing the sales into two performances. Once re-seating has taken place, the Bowlus will evaluate the option of selling a few more tickets. 
Albert Cummings: September 18, 2020
This show has been frozen for new sales. We are currently in negotiations with the artist and agency on adding a 2nd performance in order to accommodate our limited capacity for seating, due to social distancing. Those with tickets to the performance will be sent an email with updated information for this performance, once an agreement has been made. There will be seats available for new sales once a 2nd performance has been established.
  Anne of Green Gables - The Ballet: October 2, 2020
This show has been frozen for new sales. Due to the tour being put on hold for the fall, the agency has reached out to us to reschedule this performance. We are currently discussing options and will have more information in the coming weeks. 
New 20-21 Season
We are anxious and excited to announce the new season, but we ask for your patience. The current plan is to announce the new season in September. 
CSTW
Our summer program will start next Monday, July 6. Registrations are currently taking place. Please visit our website for more information
Our Staff, Trustees, Commissioners, and Volunteers wish you all well. We look forward to seeing you at the Bowlus once again. 
Daniel Kays, Executive Director
Fry Street Quartet: American Women Composers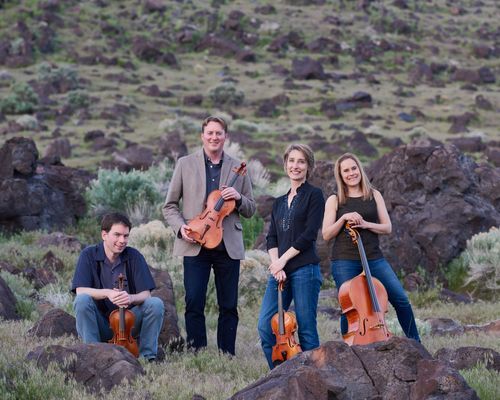 This remarkable quartet - hailed as "a triumph of ensemble playing" by the New York Times - is a multi-faceted ensemble taking chamber music in new directions. Touring music of the masters as well as exciting original works from visionary composers of our time, the Fry Street Quartet has perfected a "blend of technical precision and scorching spontaneity" (Strad). The quartet has reached audiences from Carnegie Hall to London, and Sarajevo to Jerusalem, exploring the medium of the string quartet and its
life-affirming potential with "profound understanding...depth of expression, and stunning technical astuteness" (Deseret Morning News).
The FSQ has commissioned and toured new works by a wide range of composers. Pandemonium by composer Clarice Assad received its Fry Street premiere with the San Jose Chamber Orchestra; Michael Ellison's Fiddlin' was co-commissioned by the Arizona Friends of Chamber Music Series and the Salt Lake City based NOVA series; Laura Kaminsky's Rising Tide was commissioned especially for the quartet's global sustainability initiative, The Crossroads Project, which tours with projections of paintings by artist Rebecca Allan, text by physicist Dr. Robert Davies and images by photographer Garth Lenz. The quartet also workshopped and premiered Laura Kaminsky's chamber opera, As One, with soprano Sasha Cooke and baritone Kelly Markgraff at the Brooklyn Academy of Music, as well as a new work by Libby Larsen entitled Emergence, which anchors the Crossroads Project's Second Chapter, Crossroads: Emergence for string quartet, film, and actor. The Crossroads Project album has recently been released on Navona Records.
The FSQ holds the Russell Family Foundation Endowed String Quartet Residency at the Caine College of the Arts at Utah State University in Logan, Utah.