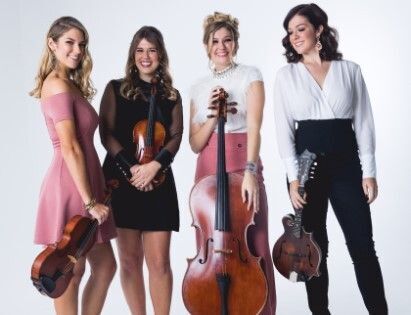 A Sleeper Family Trust and Pearman Trust Supported Performance
The Hall Sisters have established themselves as one of the up-and-coming and premier acts in the country pop genre. While releasing multiple CD's over the last few years and writing new material, the ensemble has also maintained a robust tour schedule having performed at notable venues such as The Grand Ole Opry, Carnegie Hall, the Country Music Hall of Fame and Dollywood. In addition to two Midwest tours, in December 2019, they traveled around four countries in the Balkans on a Christmas tour.
The sound of The Hall Sisters is best described as a combination of the harmonic prowess of the Eagles and the soulful blend of the Carpenters mixed with the energy of country pop! The word synergy defines the quartet in that the combined output of their talents and musicality is greater than the sum of each individual part.
A vocal/instrumental foursome of talented siblings, the Hall Sisters marry stunning harmonies along with a brilliance and excellence on their instruments to create an entirely unique sound.