2022 Keaton Film Competition Kick Off Event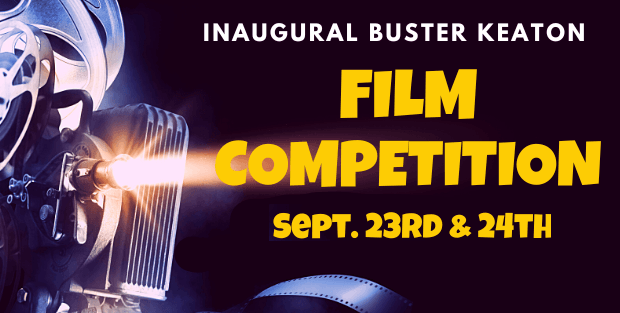 To Register, Click on the Register Button above
Eligibility
All entries must have submitted an online entry form designating the team leader and all participants on the film team, including crew and talent. The form must include a completed payment of the non-refundable Entry Fee of $25.00. All teams must have read, signed, and submitted one copy of THE BOWLUS FINE ARTS CENTER KEATON CELEBRATION FILM COMPETION 2022 RULES AND PARTICIPATION AGREEMENT (see downloadable link below). Participants must be at least sixteen (16) years of age or have parent/guardian signature to participate.
The Competition
The 2022 Keaton Celebration is focused on the influences of Buster Keaton and Gene Kelly on film. Both were innovative in their use of the camera and the incorporation of choreography and music. The Bowlus is looking for the next generation of filmmakers by holding a film competition for local area film enthusiasts.
The competition is a timed competition, in which the film is produced within a defined time frame. This years competition will start at 7pm, August 12 (CST) and films must be completed and submitted by 5pm (CST) on Friday, September 16 in order to be eligible for awards. Any film submitted after 5pm, September 16, can be considered for screening pending on number of entries, but will be ineligible for awards.
Participants' films will be viewed and judged at the Keaton Celebration, the weekend of September 24 and 25, 2022. The Selection Committee will announce the winning participant in the afternoon of Saturday, September 25th, 2022, during the Keaton Festival.
Each participating individual or team must have a representative attend the official KICKOFF event, either in person or via zoom invite, to be held at the Bowlus Fine Arts Center on August 12, 2022 at 7pm. In order to attend either in person or via zoom, every individual or team must have submitted a completed and signed and emailed a Competition Agreement (See Related Links below) and have paid the non-refundable Competition Entry Fee of $25.00 in full.
Filmmaking Criteria (Key elements will be revealed in Kickoff event to prevent pre filming prior to competition start time)
Each participating group will choose either the Silent Film or Music & Dance category for their film and must:
A. Be an original work created by the participant, emphasizing a character based storyline.
B. Have a runtime between 3 and 6 minutes, with an extra 30 seconds for credits at either the beginning or end of the film, but not both, for a total runtime of between 3:30 and 6:30.
C. Contain a title and some sort of credits for the cast and crew, not to exceed :30 as stated above.
D. Be family friendly, with content equivalent to an MPAA rating no higher than G, which contains nothing in theme, language, nudity, sex, violence or other matters that, in the view of the Selection Committee, would offend parents whose younger children view the motion picture. Snippets of language may go beyond polite conversation, but they are common everyday expressions. No stronger words are present in G-rated motion pictures. Depictions of violence are minimal and comical and/or non-explicit or only implied. No nudity, sex scenes or drug use are permitted.
E. A submission in the Silent Film category must contain no audible dialogue but can have title cards and/or subtitles and can include music.
F. A submission in the Music & Dance category must contain large elements of dance, but is not a music video.