The Chipper Experience! Where Comedy & Magic Collide!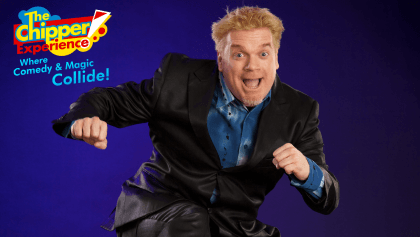 A Sleeper Family Trust Supported Performance
Two-time "Comedy Magician of the Year!", CHIPPER LOWELL, has toured around the world for the last two decades to rave reviews. His performances are a high-energy blend of original, cutting-edge magic, hilarious one-liners, and a roller-coaster of rapid-fire adlibs & razor-sharp wit.
Chipper has also been nominated three times for "Stage Magician of the Year!" by the Academy of Magical Arts (aka The Magic Castle in Hollywood), and was honored to receive the award for "Specialty Act of the Year", and the prestigious Senator Crandall award for "Excellence in Comedy Magic." He was also named as one of the "Top Funniest Magicians Performing Today!" by Magic Magazine.
His television credits include appearances include all NINE seasons of the popular Masters Of Illusion series on the CW network, as well as guest appearances on The Tonight Show, Disney Channel, America's Funniest People!, Christmas Magic, Don't Blink!, The MDA Telethon, Street Magic, Empty Nest, General Hospital, and Show Me The Funny!
Chipper's unique magic, jaw-dropping mentalism, and side-splitting audience interactions will have you rolling in the aisles. The Sacramento Bee calls him "Delightfully Funny!" and BroadwayWorld.com put it best: "His magic was truly inspired, and he had everyone in the theater laughing hysterically!"