Welcome!
We strive to make our community a better place by making entertainment opportunities with the best leg room in Kansas!
Dear Bowlus Fine Arts Patrons,
Due to the state order to close all events with 10 or more in attendance for the next 8 weeks, the Bowlus has moved the following performances to new dates:
Albert Cummings, Saturday 21st Has been moved to Friday, September 18, 2020 at 7pm
Stunt Dog Experience, Sunday, April 5 Has been moved to Sunday, August 16, 2020 at 2pm.
Anne of Green Gables – The Ballet, May 7 Has been moved to Friday, October 2, 2020 at 7pm.
Current Ticket Holders can be use their tickets for the new performance date. There is no need for the Bowlus to reissue new tickets. If a ticket holder cannot locate their tickets, please email the Bowlus box office at tickets@bowluscenter.org to request their tickets to be resent or reprinted.
For patrons who purchased single tickets and are not able to attend the new date, the following options will be available by contacting our office directly starting Monday, March 23 (620-365-4765 9am – 4pm. Options are not available for subscription tickets):
• A credit voucher, for the total transaction value of the cancelled tickets, to be used for any events taking place for the upcoming 2020-2021 season. The new season will be announced in July. The voucher is redeemable for one single transaction and any balances are not eligible for further purchases or refunds.
• Donating the full value of their tickets to the Bowlus, to support our future and help see us through this difficult time.
• A full refund of their transaction. If the transaction was made by credit card within the last 90 days, the refund will go directly back onto the card that was used. If it was beyond 90 days, the refund will be issued by a Bowlus Check within 14 days of canceling the tickets. If they paid by check or cash, their refund will be issued by a Bowlus Check within 14 days of canceling their tickets.
We appreciate everyone's patronage, understanding, and consideration of rescheduled dates.
Our love and support go out to those who have been personally impacted in any way by this virus.
Be well. Keep hydrated. Wash your hands. Keep your loved ones close.
Daniel Kays, Executive Director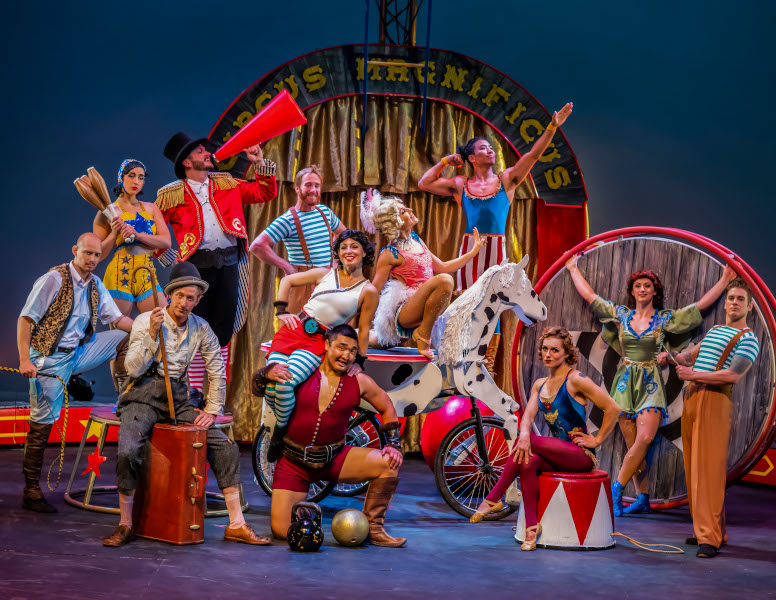 42FT – A Menagerie of Mechanical Marvels
At the center of every circus rests a 42ft ring full of thrills, laughs and excitement. 42FT – A Menagerie of Mechanical Marvels, is the latest invention from the creative minds of Cirque Mechanics. The company dares us to leap into the circus ring and experience the timelessness of this evolving art form. The shows' unique mechanical interpretation of the traditional, and its story full of the lore of the historic one-ring circus, create a welcoming place, like a big top, where we can be amazed. The action in 42FT is full of theatricality and a modern sensibility, showcasing a galloping mechanical metal horse and a rotating tent frame for strongmen, acrobats and aerialists.
Cirque Mechanics, inspired by modern circus, finds its roots in the mechanical and its heart in the stories of American industrial ingenuity. The shows, imbedded in realism, display a raw quality rarely found in modern circus. Cirque Mechanics signature style is wrapped in acrobatics, mechanical marvels, and a bit of clowning around. 42FT follows the great successes of Birdhouse Factory, Boomtown, and Pedal Punk.
Step right up ladies and gentlemen, boys and girls, to the Cirque Mechanics world of gears and canvas, pulleys and sawdust- within 42FT.