Maeve Gilchrist Featuring Kyle Sanna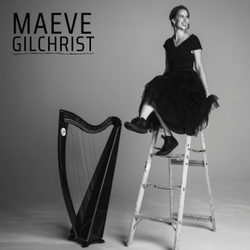 Described by one critic as "a phenomenal harp player who can make her instrument ring with unparalleled purity", Maeve Gilchrist has taken the Celtic (lever) harp to new levels of performance and visibility.
Born and raised in Edinburgh, Scotland, and currently based in Brooklyn, New York, Maeve's innovative approach to her instrument stretches its harmonic limits and improvisational possibilities. She is as at home as a soloist with an internationally renowned orchestra as she is playing with a traditional Irish folk group or using electronic augmentation in a more contemporary, improvisatory setting.
Maeve has released five albums to date, including her most recent 2020 recording, The Harpweaver which was hailed by the Irish times in it's five-star review as "Buoyant, sprightly and utterly beguiling….a snapshot of a musician at the top of her game." Other albums include three recordings for the Adventure Music label including her 2017 release with bassist Viktor Krauss, Vignette and a self released solo-album, the Ostinato Project is a beguiling exploration of the possibilities of her instrument. In 2018 Maeve was a featured soloist on the Dreamworks blockbuster movie soundtrack, How to tame your dragon: The hidden world.